At the heart of the incoming and outgoing flows of large organizations (banking, industrial or government groups), mailrooms still play a strategic role today. Let's go behind the scenes of this document management platform, between ergonomics research and productivity gains.
Paperless, everyone's business?
While physical mail tends to decrease (-0.7% in 2021 compared to -19.4% in 2020 in France), it remains a widely used medium in the professional world, especially for sensitive documents. Purchase orders, contracts, invoices, bank loans, recommended, etc. exchanges of paper documents remain numerous, whether by habit or by legal or contractual obligation
For companies and organizations that manage a large volume of documents every day, the issue of optimizing the mail function remains central. Indeed, their ability to process information and provide quick answers are the guarantors of a successful customer experience.
In this context, procurement and general services managers are increasingly keen to make the mail function more efficient. The challenge is to manage to deal with all these daily flows. to send or deliver them to the right recipients as soon as possible. To this end, mail sorting, processing and distribution operations must be able to benefit from appropriate logistics and equipmen
The mailroom, the company's hub
■ A unique design
Optimizing the document management of an organization, first goes through a complete audit phase of the existing. This is to answer the question: What is the best configuration of the mailroom to integrate and optimize the processing of incoming and outgoing flows? This upstream study is essential before deploying a new procedure that must be respected by all concerned.
ou Each mailroom responds to a specific organization. When entering the design or optimization phase of a sorting room, the goal is to achieve an optimized space that is as economical as possible for the customer. Concretely, it is a question of finding the right balance between the typology of flows, the number of traps required and the available surface area. This modelling proceeds directly from the data and specifications provided by the client.
■ Ergonomics, a prerequisite for the productivity of teams
In a mailroom, nothing is left to chance! The layout, the positioning of equipment and the choice of equipment are decisive. The aim is to simplify sorting and pre-sorting operations in a small space as much as possible. To optimize the cadences, the space must be adapted to the typology of flows, and designed so that the operator has the least gestures and movements to perform. These improvements will streamline operations and boost the productivity of operators and sorting agents.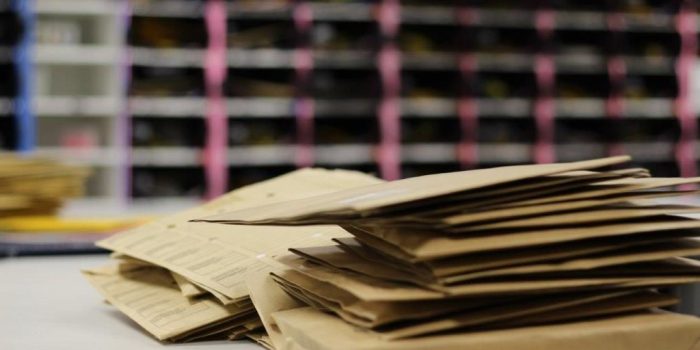 Our way of doing things: bespoke. Each mail room is equipped with pigeon boxes, that is to say, locker furniture and high tables with wheels that we designed and made by a carpenter from Bordeaux, with whom we have always worked. Mobile, each piece of equipment can be moved easily, from one room or site to another, or in the event of an agency moving. This allows us to offer a tailor-made premium service that can be tailored to your taste. Valérie Boureau – FM Technical Officer
At the centre of the document management of the major banking networks, the mailrooms make it possible to consolidate at the same point all the flows emanating from head offices, branches or establishments, sort them, and resell them by receiving agencies and back office services. Internal mail and documents, invoices, payment methods, recommended, mobile phones, tablets, small equipment, everything goes through the mailroom. This tool is very important because the flows here go very fast.
The organization of the flows is adapted according to the time constraints of the client, but generally speaking, the document chain works in the 18-8 window. In other words, all mail bags are picked up at the end of the afternoon, at the latest around 6pm, at the various banking establishments and sent directly to the mailroom. The bags are then opened, and the documents are pre-sorted, sorted and packaged – usually between 11pm and 2am, before being read again at night or the first hour the next morning in the receiving agencies and services, or in treatment centres, archiving or 'partner' destruction.
Mail management is therefore structured around three main stages:
Step 1 : Receiving and processing incoming bags (scan, open, extract and sort)
Step 2 : Breakdown of documents and means of payment by agency and services of destination (control content/container) and delivery in pigeon-hole of bags
Step 3 : Tracking outgoing bags (closure, scan) for shipping
When document processing is coupled with a shared collection and delivery network of bags, the device gains in performance.
Outsourced mail rooms: between performance and cost reduction
From printing to destruction to sorting, transportation, digitization, archiving, destruction and recycling, organizations must manage the entire life cycle of their documents. To optimize costs and deadlines, while improving the security and confidentiality of their flows, many call on a service provider with a global logistics solution and a dense and shared night distribution network.
With this process, the documents are collected at the end of the day on the various sites, processed in masked time, and delivered to their final recipients the next morning. A quick solution to speed up data and operations processing (saving an average of one day), save resources and reduce the carbon footprint.
Outsourcing: what about the benefits
+ of flexibility: outsourcing document management and associated transport allows you to refocus on your core business and adjust your resources
+ space: f your building is located in the city center where the price per m2 is expensive, outsourcing the management of mail sorting rooms has a major economic advantage, that of reducing the cost of your rent
+ speed: because they operate from night to time, outsourced sorting rooms make it possible to speed up the processing of your data, and ultimately your operations (gain of one day on average). They significantly improve customer service
+ CSR: integrating sorting operations into the transport chain makes it possible to delete certain links. Direct savings and a reduction in your CO2 emissions
+ professionnalism: using a specialist partner guarantees confidentiality, traceability and security
+ productivity: a specialized partner is able to define the ad-hoc organization that will allow to process large volumes of mail in a limited time, in compliance with your hourly requirements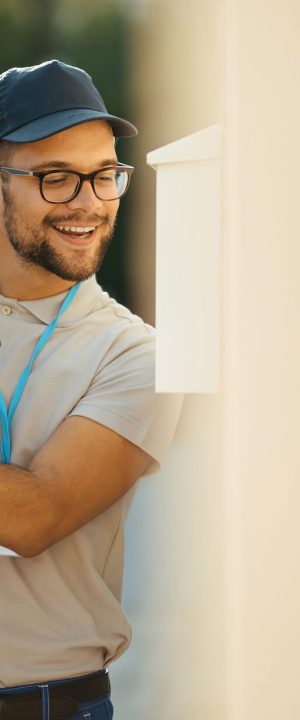 Hybrid processing of documents, provision of recyclable containers and bags, organization of regular rounds, the operation of the mailroom meets a precise logistics, which must constantly be readjusted. Thanks to its results in terms of security, cost reduction and improved user experience, this space dedicated to the processing of flows is attractive outside the service sector.
The sorting room is a service that can address many sectors, because it allows to process flows of various nature. Mail and documents of course, but also small equipment or telephone and computer equipment, spare parts for industrial, dental laboratory imprints, kit composition, boxes, kits, pouches for the luxury industry, order preparation for retailers, health kits for pharmaceutical laboratories, etc. the field of possibilities is wider than it seems.
With their ability to pool, logistics providers can rely on their regular visits within organizations to offer additional services in Facility Management: servicing of buildings, packaging and waste management, meeting room preparation, first-level building maintenance. Going through a service provider capable of handling all your flows and organizing Facility management operations in situ will bring you optimal management of your organization at a lower cost.
Towards diversification of flows?
Sébastien Talbot – Chilly Mazarin Agency Director 

" Since July 2020, a major manufacturer of dental prostheses has asked us to manage its packages with a network of 80 dental centers present throughout France. Our mission is to process incoming/outgoing flows in a sorting room in Chilly Mazarin. Every day at 7 in the morning, the operators receive bags containing mouldings that must be extracted, sorted and packaged before being shipped from Roissy Charles Gaulle to the manufacturing plants, either in China, Turkey or Romania. The courier picks up the imported prostheses that are sent to the sorting room to be processed and shipped the same evening to the different dental centers. Each satchel has a reversible label with bar code that allows to trace the flows with shipping notification or receiving prostheses."
➡️ STERNE Group has been providing mailroom solutions based on a global approach to optimizing mail function processes. With 125 mailrooms to its credit, our document solutions include outsourced mailroom design and management; 5-day-a-week collection; sorting, massing and postage; digitization and archiving.